Puppies are not products, and we don't treat them that way. However, one thing we do is guarantee the health of our puppies. Since you are buying these puppies from us, we guarantee their health since we thoroughly screen and check every breeder in our network. However, many factors play into the health of the puppies outside of just their breeders and lineage, such as how they are treated, if they are fed properly, receive the proper vet care, and many other factors.

The single most important thing you are required to do is take your puppy to a licensed and approved vet within 48 hours of receiving him or her to have a full health screening. This ensures that in fact your puppy is healthy and happy in agreement with our own vet screening.

We guarantee that your puppy has received an extensive health check prior to shipping to you. Further, the puppy will have received all vaccinations and deworming.

If any congenital or hereditary health issues are discovered that affect your doggies health up to 10 years of age, we will find you a new puppy for half the price of your original puppy.


What You Need To Do
In order for us to honor the health guarantee, you must promise:

To have your puppy screened within 48 hours from head to paw by a licensed, approved vet.

To have twice-a-year checkups at your vet (we do it with our own family dogs).

To verify the vaccinations records with the vet who provided them (your puppy will be fully vaccinated...do NOT re-vaccinate. If you have ANY questions about this contact the vet listed as provider of the vaccinations).

To not overexert them. Dogs love to play, and who doesn't love to play with a puppy!? But puppies are still delicate and you should be very mindful when playing with them.

To keep them away from other aggressive dogs/people. We support a network of animal abuse whistleblowers, and if we have any information we report this to the proper local authorities without reservation.

To feed them as recommended by their vet so that they are not severely underweight or overweight (a common issue with dogs).

Each puppy undergoes an extensive health check from a licensed veterinarian to ensure you get a happy and healthy new family member
When your puppy is shipped to your home, we ensure the puppy is as comfortable as possible and is cleared for safe travel.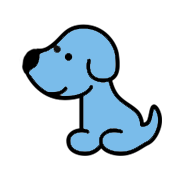 Our business fuels our passion to help save and rescue dogs around the world through charitable actions, starting with our promise to 'Adopt 1 Save 1'.
Need Help
Speak to a puppy specialist!